It's a dreary night in old London, the cobbled streets of Whitechapel are deserted, its lonely and frightening, even more so if you have been abducted by a maniac, one that seems to dislike women so much that he murders them.  Nobody really knows who Jack the ripper was, many have come close to naming him but not quite.
Only one man has dared to take the plunge and gather real concrete evidence, in the form of a old shawl bought at auction. Only one man has dared to investigate this shawl, and through his observant eye question the markings that others would have overlooked as being mould. Significant markings that would change history, especially in figuring out who jack the ripper really was, because what looked like mould wasn't mould at all but blood, blood of one of the rippers victims. So what's significant about that you may ask?
The Ripper was renowned to have murdered many, in his brutal killing sprees.  What's significant is that old Jack boy was careless this time, careless In his murdering spree, careless in the fact that in his quest to inflict the barbaric act of murder he managed somewhere along the line to cut himself. Just a drop which he probably didn't even feel.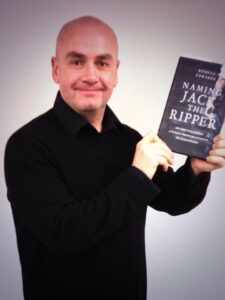 That drop however was enough his DNA was imprinted on that shawl, a stain which on the night of the murder would have gone unnoticed. In fact, what's bizarre is that it's gone unnoticed for centuries. Had it not been for Russell Edwards, the man behind the ground breaking literary phenomenon that has the DNA world and critics in a frenzy. In his book:  Naming Jack the Ripper, Mr Edwards has broken all the rules and made history.
He is the only person to have taken that shawl and have the blood analysed by the top forensic experts in the field of criminology.
So I invite you to join him on this fascinating tour where you are given the unique opportunity to walk in the footsteps of one of the most notorious psychopathic criminals of the 18th century.
Join us on The Jack the Ripper Tour – and take a step back in history and find out the true name and identity of Jack The Ripper.
Save